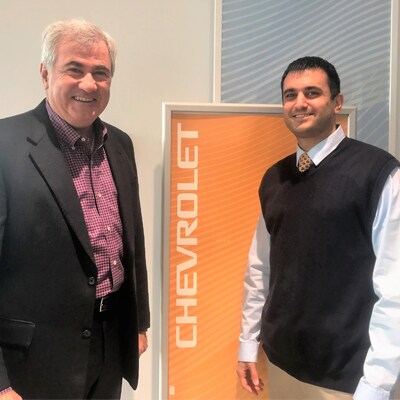 END OF LEASE OPTIONS AT STEET PONTE CHEVROLET
REPLACE, RETURN, OR REFINANCE
When the term of your lease comes to an end, you have several options. The choice is yours when it comes to leasing your current Chevy vehicle!
1. BUY OR LEASE A NEW CHEVY
You can turn in your current leased vehicle (subject to certain conditions, of course) or use it as a trade-in on a new Chevy to purchase or lease again. Call us at (315) 866-5080 for additional details on trading-in (or turning in) your leased vehicle. Don't forget to check out our "Leasing vs. Buying" page if you're deciding between the two. There are many benefits to both options! Or, use our Value Your Trade tool to get an estimate as to what your current Chevy is worth.
2. PURCHASE YOUR CURRENT VEHICLE USING FINANCING
Can't see yourself parting with your currently leased Chevy? Don't worry, we have several financing options to help you buy it out. Contact our Finance Department today to discuss your options, determine your vehicle's payoff amount, and answer any questions you may have.
3. TURN IN YOUR CHEVY VEHICLE
Return the vehicle to our dealership, just remember to bring your owner's manual, extra set of keys and any other accessories that came with the vehicle. You can also make an appointment to schedule a complimentary vehicle inspection.
Make an Inquiry
WHAT TO DO WHEN YOUR CHEVY LEASE ENDS
When you first came to Steet Ponte Chevrolet in Herkimer, you started your journey by exploring our new model showroom. After taking your tour and test drive, you locked eyes on your new Chevy. To save on monthly payments, you chose to lease your new Chevrolet Silverado 1500 near Utica, NY. During your lease agreement, you savored time behind the wheel of this new Chevrolet truck. And now, as your lease concludes, you have a decision to make. 
What Should You Do at the End of Your Chevrolet Lease?
When you lease a new Chevy Malibu near Utica, you willingly choose to drive this new car temporarily. Once your contract ends, only you can decide what your next step will be. At Steet Ponte Chevrolet, serving Utica, we give customers alternatives for what to do at the end of a Chevy lease. With the guidance of sales and finance experts, we'll make sure that the post-lease process is as simple as the process to sign your Chevrolet lease.
Chevy Drivers Near Utica Have Three End-of-Lease Options
As your Chevy lease draws to a close, here are three end-of-lease routes available for Steet Ponte Chevrolet customers.
Return Your New Chevrolet to Herkimer. When your lease is up, you can drive your new Chevy Colorado, along with the owner manual, keys, and accessories, back to Steet Ponte Chevrolet. We are less than 30 minutes outside Utica, NY.
Purchase Your Leased Chevrolet. If during your lease, you fell more in love with your new Chevy Traverse, you can finance it at Steet Ponte Chevrolet when your contract terminates. Then, you will become an official Chevrolet owner.
Lease or Buy a New Chevy Model. With this flexible end-of-lease method, you may be able to use your leased Chevy Impala as a trade-in to afford to buy a new Chevrolet SUV, car, or truck. Or you can also take out another lease.
When you leased your new Chevrolet Equinox a few years ago, it gave you a chance to experience the top-notch performance, design, and amenities associated with the brand. Now, you can move forward with one of three end-of-lease opportunities near Utica. At Steet Ponte Chevrolet, we'll smoothly transition you into the next best step after your Chevy lease expires. Contact our Herkimer team to choose your end-of-lease direction today.